Counterflows Delegates 2023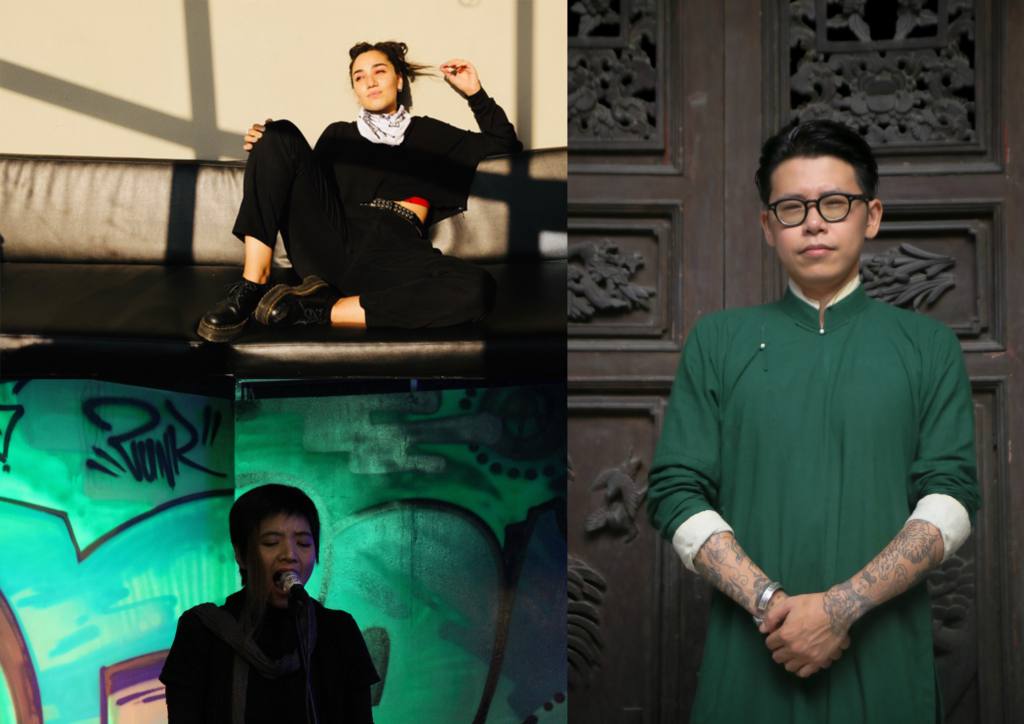 We are delighted to announce that this year we will be hosting three delegates from Hanoi, Vietnam and Beirut, Lebanon at Counterflows Festival through the generous support of the British Council.
The three delegates we are excited to welcome are artists and curators Kim Ngoc (Vietnam), Nguyen Quoc Hoang Anh (Vietnam) and Renata (Lebanon).
Kim Ngoc
Kim Ngoc is a Hanoi based mix-media composer and improvisational sound artist/performer, who studied music in Hanoi and Germany.She is known as a giant of the Vietnamese contemporary music scene and was named by Forbes as one of the 50 Most Influential Women in Vietnam 2019. She is the founder of DomDom, the first and only independent centre in Vietnam devoted to the development of contemporary experimental music and arts, helping to foster a new generation of young artists. Organising the Hanoi New Music Festival in 2009, 2013, 2018, was one of Kim Ngoc's major contributions in putting contemporary experimental music of Vietnam and Southeast Asian on the map of global music.
http://kimngoc.weebly.com
http://domdommusic.net
http://hanoinewmusicfestival.net
Nguyen Quoc Hoang Anh
Nguyen Quoc Hoang Anh is a multidisciplinary artist and curator who lives in Ha Noi, Vietnam.
Hoang Anh's artistic practice spans a variety of artistic media such as sound art, video, installation and conceptual art that centres ideas around traditions, ideology, rituals, and environmental change. His music has been performed at various venues across Vietnam and he was named one of five young promising musicians by the Red Dust Horizon programme in 2019. In 2019 he founded Len Ngan- a multilingual arts and culture platform and interdisciplinary collective that develops art projects with the aim of benefiting the local community. Hoang Anh is the Project Director of Dom Dom – The Hub for Experimental Music and Art. Recent projects include guest curation of Borderline Festival 2021 in Athens (Greece), direction of See the Sound, Vietnam supported by British Council and The Story of Dan Bau supported by Hamburg University of Music and Theater (Germany).
Hoang Anh is currently working with the Counterflows team towards an upcoming project based between Hanoi and Ha Giang in the Kieu Lieu Ti mountain range, Northern Vietnam titled Thanh Cảnh (Sound and Landscape).
Renata
Renata is a DJ, artist and organiser living in Beirut. Renata's sound has been shaped throughout her years of beat-based explorations, using the decks and drum machines in her deconstruct/ reconstruct approach. Her art draws vision and inspiration from the murkier edges of beat processions, and takes shape as a manifestation of dissent through her ever evolving modus operandi.
After a brief stint in London, Renata returned to Beirut in 2016 and joined the Frequent Defect team with whom she shares a similar drive to address collective issues through multidisciplinary art forms. Renata is consistently developing as an artist, curator and co-director of Frequent Defect whilst also feeding into the collective force seeking to confront conditioning and underlying taboo subjects through unapologetic radical art.
You can listen to Renata's music here
https://soundcloud.com/renata-sabella
We acknowledge and appreciate the support of the British Council and are delighted to be part of their UK/Vietnam 2023 Season.