For Ruth
Annea Lockwood

Whether recording burning or drowning pianos, the sound maps of rivers or the resonance of glass, Annea Lockwood is one of the most exploratory artists in experimental music history.
As part of being our Featured Artist at Counterflows at Home, Annea shared with us her intimate new audio work, For Ruth, which threads together conversations with her late partner Ruth Anderson and field recordings of the places that are evocative of their time together. We also featured the premier of film-maker Sam Green's Annea Lockwood/ A Film About Listening – a spell-binding documentary on Annea's life and work – and a text response piece for Annea & Ruth by writer, philosopher and editor of the New Socialist, josie sparrow.
Annea Lockwood's commission For Ruth will be released on an LP called Tête-à-tête by New York label Ergot Records later this year. The work is now no longer available to stream, but we will provide sample clips soon, and once we have a release date for the LP we will provide a link on the site to enable you to purchase the beautiful work. The live interview, josie sparrow's essay on Annea's new work, Distant Voices (In Fluid Communion), and various other images from the project will be available through the Counterflows archive.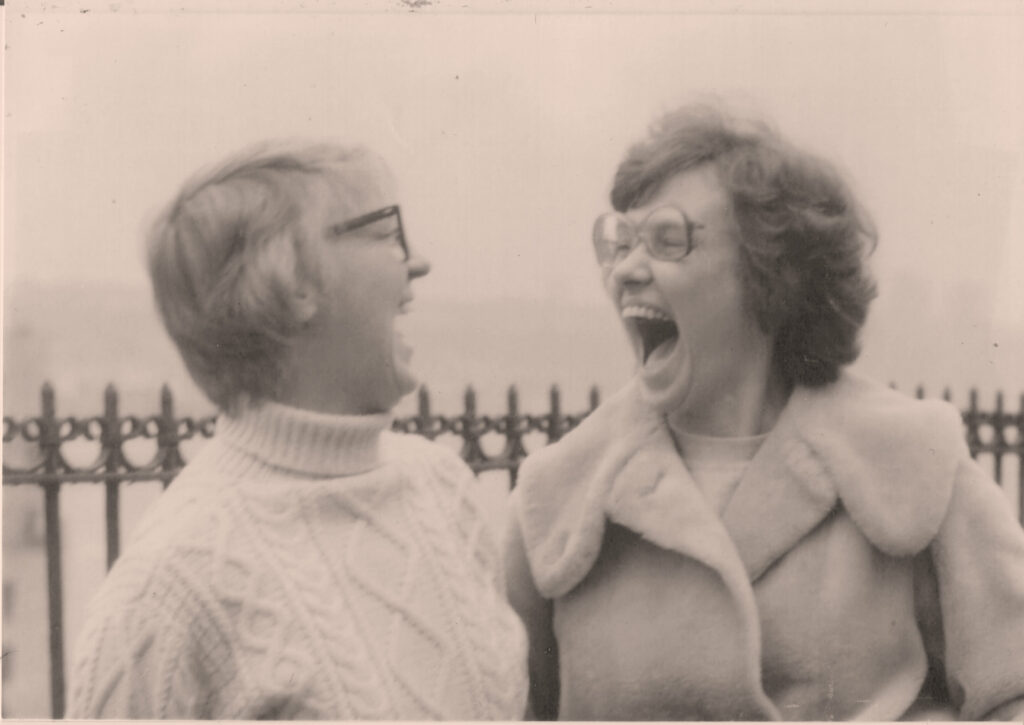 In July, 1973 Ruth Anderson and I met for the first time and within three days we were joyously entangled. For the next nine months while I was teaching in her studio at Hunter College, NYC, and she was living in Hancock, NH on a sabbatical – composing, piling wood, swimming – we called each other by phone, often twice a day, "… together in our voices" as she wrote. Ruth recorded those conversations, and in '74 she collaged fragments –– interweaving them with snatches of old popular songs, Yes Sir, That's My Baby; Oh, You Beautiful Doll; and Bill Bailey into Conversations ('74).
It was a gift to me, a private piece. In a letter to me written at that time she says "Yes, conversations. Replayed at another time are like photographs, a framed, kept, high tuned awareness for flow of rhythm from a person, that person's composition & a composition of that person, how people cope with that one medium we must all share, of speech."
For Ruth. In June 2020, seven months after Ruth died, I returned to Hancock, wanting to be back in that peaceful world, and made field recordings in and around the village, at Willard Pond – an Audubon Sanctuary where we loved to swim, and Sargent Lake, weaving our voices from those same phone conversations in '73 back into that origin place, and finally at Flathead Lake, Montana where she rests.
A.L.   December 2020
Annea Lockwood/A Film About Listening
Sam Green's wonderful film commissioned by Counterflows for Counterflows At Home is now available through Vimeo on Demand, see below. All proceeds will go to Sam and his production company and towards the costs of making the film. Annea Lockwood – A Film About Listening was recently screened to great acclaim at the Tulluride Film Festival in Colorado in a double bill with Ed Lachman's Songs for Drella. If you are interested in screening the film please email
Conversations
The work by Ruth Anderson that inspired Annea Lockwood's work "For Ruth"

Warning: Attempt to read property "ID" on bool in /www/counterflows_990/public/wp-content/themes/counterflows/templates/post/commissions/blocks/content-block-writing.php on line 12
For Ruth

Warning: Attempt to read property "ID" on bool in /www/counterflows_990/public/wp-content/themes/counterflows/templates/post/commissions/blocks/content-block-writing.php on line 14
Whether recording burning or drowning pianos, the sound maps of rivers or the resonance of glass, Annea Lockwood is one of the most exploratory artists in experimental music history. As part of being our Featured Artist at Counterflows at Home, Annea shared with us her intimate new audio work, For Ruth, which threads together conversations […]