Ghost Tunes – The Big Reveal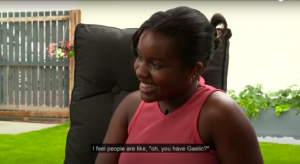 "I feel People are like, Oh you have Gaelic" –
Tawana Maramba in Afro/Gael by Cass Ezeji for BBC Alba.
So on 28th October we reconvened for our second Ghost Tune's gathering. The idea for this meeting was that all artists would share a work or some aspects of their own practice with everyone. I had already shown the short film about Counterflows from 2016 to let our Australian friends get an idea what Counterflows is about. The idea behind the sharing was to let us all get a better understanding of what each artist is doing and has done.
Cass Ezeji showed a clip from her recently broadcast film Afro/Gael which is a fascinating story of how Cass grew up with her Nigerian/Scottish/Gaelic backgrounds and how she grappled with being an outsider in all these heritages but also linked to them all. In the film she meets other black Gaelic speakers to discuss being a Gael. She also meets a fascinating man who has been documenting the Gael's involvement in the slave trade. Cass takes us on a revealing story from her childhood to the present day and opens up a whole lot of questions to ponder.
Mei also introduces us to her journey from childhood to the Perth D.I.Y music scene with familiar images of intimate gigs in busy rooms where her interest in sound and electronics blossomed into her present interest in found sound and field recordings. Explaining along the way that the city of Perth was built on a swamp and this stimulated her interest in natural sounds. From there she met up with Cass Lynch and started creating work together.
Cass Lynch took up her presentation from her own perspective of her understanding of her own heritage in the Noongar people and their language. She explained her inspiration from the great poet Japanese Haiku poet Matsuo Basho and especially from his work and travelogue "The Narrow Road To The Deep North". She was interested in the way that the language of the haikus was laid out on the page in three different ways, In the Japanese ideograms, the phonetic English version and then the translated English. From this she developed her award winning poems – Noongar Haikus (excerpt below)
Did serpents make the lands of Britain? / Do they wonder / Where their people went?
Wagyl warn moonboorli wardan boodja unna? / Baal kaadatj / Windji baalabang moort koorl?
Creator Serpent make far away country huh? / They know / where their family go?
Josie then took up the baton with firstly showing a frenetic collage of her work that really captured the immediacy of her singing and her collaborations with different artists and musicians. The film showed the variety of what Josie has been involved with from singing solo on mountain tops (with great views) to ensemble work. Josie explained her inspiration from the singing of the great Lizzie Higgins and also her idea about the embodiment of the song.
Lastly but not least Madeleine and Tim gave us a snapshot of their world of creative ideas. First they showed images of an really fascinating project exploring Collective and distributed listening where 6 or 7 sites in the city of Riga had banks of seating placed and poets and musicians distributed their art across the city with the audience being an integral part of the process. This idea of the collective response and engagement in the process was what actually drew me to Maddie and Tim's work. Secondly they let us see their most recent work which was a video/animation for Australia's chief scientist request for a response to the ethical implications of new technologies. A dense and quietly provocative work.
There was a lot to take in during this session. The depth and breadth of the artists' practices was remarkable. It was an important sharing of ideas to open up and begin understanding of each others story.